Day Program Specialist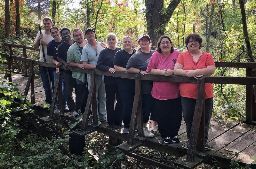 Our day program members attend program Monday through Saturday to meet and socialize with peers and to work on rehabilitation goals to increase their independence.
Candidates for the Day Program Specialist position must be dependable, responsible, creative, able to lead a small group activity, and willing to jump in to do what needs to be done.
Assists Day Program Team with the day's scheduled activities, contributes ideas for activities & works as a team member with others.
Responsible for member care and safety.
Assists with documenting daily progress notes and reporting on goal plan progress.
Integrates members in community social, recreational and volunteer activities.
This is a full-time position with benefits available upon successful completion of 90 day Probationary period.
Driving your personal vehicle and/or the organization's vehicles are expected and will require a criminal background and DMV check at hire.
Candidates with PCA or HHA certification are encouraged to apply.